Podim DX, one of the most influential startup & technology conferences in Europe, has once again brought together amazing startups, active investors, remarkable speakers, business executives and other attendees. 
The conference took place from the 17th to 19th of May and was once again a fully digital experience due to Covid-19.
Last year, the pandemic forced Podim to move from its traditional physical venue in Maribor, Slovenia to the digital realm. Even though that was a challenge and a new experience for most of Podim's team, the online event was very well received and the borderless format became a part of Podim's future.
Patrick Lee, co-founder and first CEO of Rotten Tomatoes, said this about Podim DX 2020: "I was quite impressed with the level of production of the event. It's the most professional online event I've seen or been a part of to date."
With a year of experience and new knowledge under our belt, we are proud to say we've raised the bar even higher in 2021!
"One of the best-looking streaming setups I've seen," from Veselin Tonov, CEO of Epic Media Group, that was just one of the comments when Podim went live and it was just the beginning!
There were super interesting program blocks, practical workshops, memorable talks, tons of 1-on-1 meetings and tense startup competitions.
Let's take a closer look at what happened this year at Podim DX.
1079 Attendees and 126 Speakers From All over the World
Podim has always been and always will be a conference that encourages attendees to form meaningful connections. That's why we aim to have around 1000 attendees – that's the sweet spot.
This year was no different – there were 1079 total people attending Podim.
There were 254 members of startups and scaleup teams, 128 investors and 371 business executives. We pride ourselves on creating real, business-changing opportunities for attending startups and this ratio certainly confirms that.
There were also 326 other curious attendees that gained new knowledge and learned about big ideas in various industries.
There were 126 great speakers sharing their experience at Podim and our attendees participated in 59 events – talks, panels, workshops, deep dives and behind the scenes discussions.
850+ Meetings in Only 3 Days
One of the main drawing points of Podim is definitely the Deal Room and 1-on-1 meeting going on there. Startups, investors and executives love them as they're short and relevant.
This year we've had more than 850 meetings during the 3 days of Podim! This was made possible by EEN, this year's Deal Room partner.
These meetings were between 159 startups from 19 countries, 85 investors and 82 business executives from various corporations! 
It's always great to see such buzz and activity. One stat that stood out this year is that over 100 meetings were attended by startups supported by either Slovene Enterprise Fund (SPS) and Ministry of Economic Development and Technology (MGRT).
There were also quite some local startups supported by the Municipality of Maribor (MOM) that attended promising 1-on-1 meetings.
One of the most exciting and tense parts of Podim was once again Podim's Pitching Competition, where a lot of great and ambitious startups pitched their ideas to our expert juries.
121 Startups from 19 Countries Took Part in Podim's Pitching Competition
On 17th of May, also known as Podim's Demo Day, we saw 4 pitching tracks going strong from 13.00 to 19.00! 
Only 10 startups advanced to the semifinals and only 5 made it all the way to the finals, which took place on 19th of May – the last day of Podim.
These 5 finalists were:
Zen Own Product Assistant from Switzerland pitched by Blaž Bevec
FinqTreasury from Romania pitched by Cosmin Cosma
Moeco Logistics Solution from Germany pitched by Alexa Syniacheva
PriceHubble from Switzerland pitched by Jorg Buss
Platform X from Bosnia and Herzegovina pitchey by Marija Dimitrijević
Before we reveal the winner there has to be a dramatic pause!
We'd like to thank all of our great jury members. The competition wouldn't be possible without you!
We'd also like to thank South Central Ventures and Fil Rouge Capital that helped us with the competition during all three days. Tatjana Zabasu Mikuž, Managing Partner at SCV and Julien Coustaury, Founding Partner at FRC were also members of our final's jury. 
So, who did they pick among the final 5?
The winner of Podim's Pitching Competition 2021 was Platform X!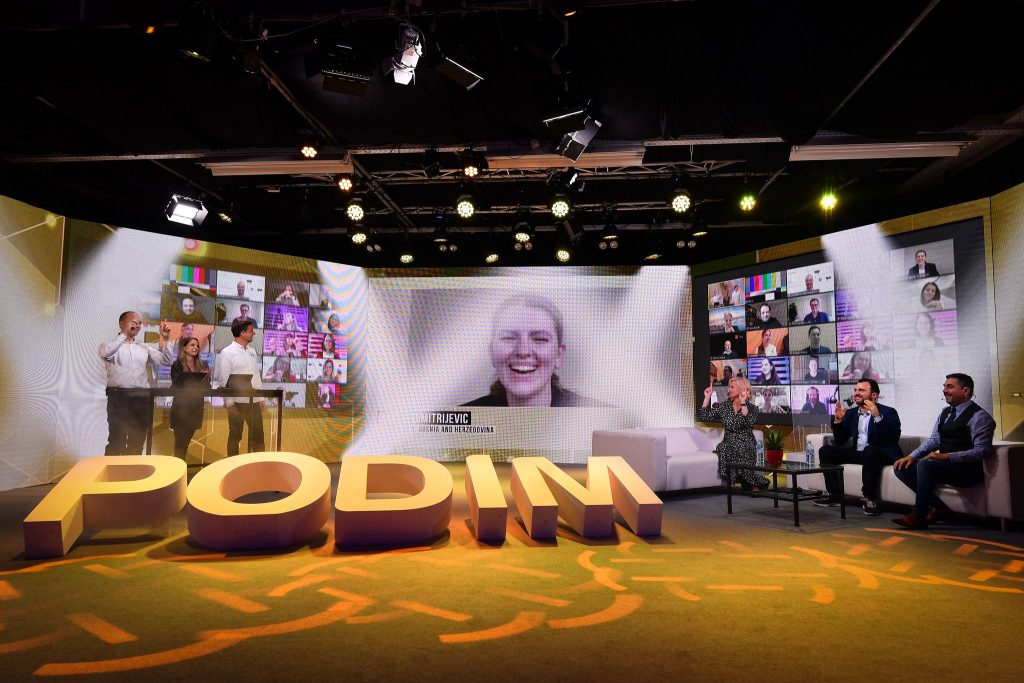 Platform X enables visionary leaders to establish a retail energy company through cloud-based software. It aims to support the next phase of energy market transformation using a modern, flexible and innovative approach powered by the latest scientific trends.
Marija Dimitrijević from Platform X was elated after the big announcement: 
"It's our first PODIM, and we reached this high! It's really, really, great! Especially since we are a company from Bosnia and Herzegovina. We are really hoping to go international. That's our main goal."
As the winners, Platform X will receive:
A spot at the Fundraising bootcamp in London, one of the best programs that will help you get funded.
A free desk rental at TMRW coworking spaces for a year.
Urban Lapajne, Podim's program director, had the following to say about the competition: 
"The number and diversity of startups that pitched at the demo day, in the semifinals and finals, testifies to the international dimensions of Podim. There were 121 startups from 19 countries at the Demo Day! Our juries also consisted of international and eminent experts. There were plenty of international investors from the most elite European venture capital funds, which further confirms the weight and importance of the Podim conference in Europe."
An Amazing Digital Experience at One's Fingertips
This year, the gateway to Podim's digital experience was a dedicated Podim App, created on the Attendify platform.
It allowed our attendees to mark their favourite talks and events and create their own schedule, watch live streams of everything happening at Podim, participate in the activity stream, network and chat with other attendees – from startups to industry experts and many more.
Miloš Arambašič, Head of Global Partnerships at Kwik Look, said this about the app: "My first ever Podim Conference appearance. An unbelievable experience, one of the best event apps I have ever seen."
The Deal Room was hosted on a different platform, but we made it super easy to switch between the apps as we implemented a "Deal Room" shortcut button. It was a part of every attendee profile that offered a chance to book a meeting with them.
Now let's take a look at talks, workshops and discussions Podim's participants enjoyed during the conference.
Getting Funded: Are Women-Led Teams Outperforming Men's Teams?
How to get funded is an evergreen topic at a startup conference and this year was no different.
There was a very interesting and useful workshop powered by Build! called "How to Effectively Raise Funds – Things Investors Will Never Tell You". It was led by Francois Mazoudier, an investor and founder of TMRW London, who shared his rich knowledge and experience from both sides of the negotiation table.
We also had the privilege of listening to one of the most interesting panels at the conference "Why Are Women-Founding Teams Outperforming Men's?". It was powered by South Central Ventures and featured some really interesting guests, including Tatjana Zabasu Mikuž the Managing Partner at South Central Ventures.
At this point, we'd like to mention that women are not only under-represented in startup teams but at startup conferences as well. That's why we really worked hard this year to improve Podim's gender ratio and get the female perspective. As this panel showed, it's definitely beneficial to consider the big picture and always keep all genders in mind.
Growth Academy: How to Come up with Growth Ideas and Test Them
All startups, scaleups and corporations strive to grow. Yet growth can be tricky. Fortunately, the Growth Academy program block is here to help our attendees successfully grow and avoid pitfalls.
Some of the top Linkedin experts hosted two workshops that showed participants how to master Linkedin tactics and how to do business where business is done. These workshops were possible because of Dewesoft.
ABC Accelerator, a specialist when it comes to growth, sponsored the "Growth Hacking Ideation Workshop" led by Maja Voje and Anuj Adhiya. Both growth experts revealed many awesome tips on how to come up with ideas that could help your growth and quickly test them to see if they work.
Health Tech: Attract Top Talent with Health Benefits
In these times the right approach to health tech is more important than ever. During the Health Tech program block, which was sponsored by Zavarovalnica Sava, we heard Dr. Ulrich Kleipaß discuss the role of different players in the digital health ecosystem and we listened to an insightful panel about the key drivers behind health-tech innovations.
Lisa Pallweber from Investment Associate said that  US employers take better care of their employees' health but in Europe, privacy is more important. 
"The US market is way more advanced in terms of employer solutions. Many solutions in the US are distributed or delivered through employers. This is sometimes mandatory. In the US big corporations have to offer their employees solutions to stop smoking. That's required by law. I do not think this is so advanced in Europe, we do not see any really big players in this space. But this is up and coming also in Europe, because employers try to attract talent, and they see that they can also attract them through health care benefits. Not only in the mental health space but also in the fertility space."
Academic Entrepreneurship: What's the Most Effective Way of Knowledge Transfer
Transfer of knowledge is such an important topic and we feel it's not talked about enough. That's why it got its own program block at Podim.
There were some great talks and a thought-provoking panel where guests like Martin Mössler, Managing Director & General Manager of Science Park Graz, discussed what needs to be done to take European technology transfer to the next level. The panel participants offered some very practical advice and guidelines that would make the transfer and application of theoretical knowledge into practice more effective.
Here's what Martin Mössler had to say on digital transformation: "Digital transformation is just around the corner, but it is never fully there. We need to be aware that the Stanford professor Douglas Engelbart gave the first digital presentation in 1968, similar to the one we enjoy and appreciate at the moment. It took until 2020 for it to fully trickle in. Innovation cycles are getting shorter, but we still need to be aware that the stuff that will probably change our lives and the world is to a large degree already here. We need to see it and we need to embrace it, we need to recycle and repurpose it. We don't need to reinvent hot water, as Slovenians say."
Smart Cities Could Make the World a Better Place
We took a look at the near future and stepped into smart cities together with HELIOT Group.
Our guests talked about the value of smart cities, how to tackle complex city challenges, opportunities of digitalization, the internet of things in smart cities and more.
Tomáš Pavlíček, the COO of HELIOT Group, said this during his talk:
"We do not see smart city only as a city because it is about smart municipalities and even the smart cities solutions have currently overlapped to some other verticals, for example agriculture. We are facing a massive demand of solutions for monitoring the beehives in the cities and it is very interesting how only 12 bytes which we transmit with one message can help to get the information about the health status of the bees. That is something that gives us the feeling that we are doing something good for the world. With our solutions, we are trying to make the world better."
Green Tech & Circular Economy: Combating Greenwashing and Improving Traceability
We need to find not just one way, but many different ways to live more sustainable lives. That much is clear. How to achieve that was the main topic of our Green Tech & Circular Economy program block powered by Oracle.
Our speakers focused on circular technology, traceability, accountability and even blockchain.
Žiga Drev, the Founder and Managing Director of Trace Labs & OriginTrail presented a great use case of Oracle blockchain during the panel discussion "Sustainability Information Should Be as Common as Price or Size".
"There's a concept we hear a lot when it comes to sustainability in fashion, food, and many supply chains, it's called greenwashing: a lot of companies are labelling themselves as responsible, and a lot of these companies are backed by quasi-legitimate certification bodies that charge a lot just to give these labels. The catch is that all the sustainability claims, all these nice logos are not supported by anything but a narrative, there is no data, data with integrity behind these sustainability claims. And that's also one of the reasons why we at Origin Trail function as an open-source community, we build tools. These are also other legacy systems, including Oracle systems. We combine our open-source, decentralized technologies with the Oracle blockchain to enable better traceability in food supply chains, especially for dairy products. So all of these tools are doing something very important in supply chains. Brands are trying to look forward, which often leads to greenwashing, and what we're trying to do is supplement the narrative with actual data," concluded Žiga Drev.
Corporate Innovation: You've Got to Have Plan A, B and C
As you can see, a lot of topics we covered demand some kind of change or innovations. However, corporations can be quite rigid when it comes to changing their approach. In order to help them improve that, CMS sponsored a program block Corporate Innovation.
The panel discussion "Is Corporate Venturing Corporate Innovation 4.0?" was especially insightful.
Monika Kek, CEO of BlueHerra, an investment firm that has reviewed and analyzed about 200 startups in recent years, suggests one important thing when thinking about corporate innovation and venturing: "Careful planning in advance is the key thing to take away. You can do many things but you have to properly plan everything in advance to be successful in the end. It has never gone through with plan A in 25 years of my career, so you have to have plan B or C as well, and you have a fairly good chance to go with plan C finally and that should also fly."
Mr. Shubber Ali, Managing Director of Startup Corps at Accenture, concluded the debate with the following statement: "If you do not know what you are trying to achieve then it does not really matter what you are structured for. You have to be really clear about what your ambitions are."
A Deep Dive into the Drone Technology
The Deep Dive segment of the conference is where our guests take a closer look at a certain topic. This year we heard a super interesting discussion about drone technology – "Why Are Flying Robots a True Game Changer?".
The event was powered by CARINTHIA and features some of the top experts when it comes to drone technology – Walter Kirsch, System Architect at Infineon Technologies Austria AG, Stephan Weiss, Full Professor at University of Klagenfurt & Networked Systems Group, and Melanie Schranz, Senior Researcher at Lakeside Labs.
We learned that drone features are proving to be extremely beneficial in places where people are unable to perform in an efficient manner. The adoption of drone technology is becoming a mega-trend as many industries realize its potential and the scale of global reach.
We also learned that there's a growing international drone hotspot in the Carinthia region, formed by FH Kärnten, the University of Klagenfurt, Lakeside Labs, and Infineon.
Demo Studio: Transforming the Banking Experience
Podim's Demo Studio segment allows some of our participants to demonstrate what they have achieved.
Nova KBM hosted a deep discussion named "With Digitization and Robotic Process Automation towards Excellent User Experience".
Tolga Yurteri, Director of Digital Banking at Nova KBM, Dr. Aleksandra Brdar Turk, Director of Banking Operative at Nova KBM and Aytac Aydin, Management Board Member at Nova KBM, discussed how a business can be successfully transformed if the desire for innovation comes from the top, which is often not the case with bigger organizations.
They presented the path of digital transformation of Nova KBM and talked about their experience of introducing robotic process automation.
Mr. Aydin also explained why they are attending and supporting Podim: "Being a partner of PODIM DX gives us valuable insights in the start-up and fintech community. It helps us to provide even greater user experience to our stakeholders."
Demo Studio: Showcasing Creative Startups
Another Demo Studio event, called "Meet Slovenian Creative Startups", was prepared by CZK MAO.  It gave a chance to some of their creative startups to present their stories and interesting solutions.
The creative startups we've seen were:
ARTY PARTY, presented by Špela Vizjak and Vasja Stojanovski.
Wickerwork for a Sustainable Lifestyle, presented by Darja Malešič.
Home Away From Home, presented by Urban Šlabnik and Matevž Šlabnik.
Kotcha: Micro Cabin Platform, presented by Simon Bregar, Lin Gerkman and Jakob Koncut
La Mancha, presented by Bor Pungerčič.
Founders All-star Night: Experiment, Validate, Optimize and Repeat
Podim's founders' all-star nights are a gold mine of actionable advice on various chosen topics. This year there were two all-star events – one was powered by Silicon Gardens and the other by Fil Rouge Capital.
The discussion panel that stood out was "Experiment. Validate. Optimize. Repeat." One of the guests was Žiga Vrtačič, Co-Founder of Bird Buddy, a recent huge Kickstarter success.
Here's what the panel's moderator, Rodrigo de Alvarenga, Managing Partner at HAG Ventures, had to say about the discussion: 
"It was a great pleasure to moderate the panel "Experiment. Validate. Optimize. Repeat." at Podim Conference Dx 2021. Hosting Ziga Vrtacic (co-founder of Bird Buddy) & Kyle Buzzard (co-founder of Prota Ventures), we were introduced to Bird Buddy' journey from a problem into a business and spent time talking about the differences when comparing the venture building approach to build new ventures/startups and the normal approach. It was really inspiring!"
Who's Going to Be the Slovenian Startup of the Year?
We've also announced the finalists for the Slovenian Startup of the Year award. It's being awarded for the 14th year in a row by Start:up Slovenija together with the Slovene Enterprise Fund (SPS), Ministry of Economic Development and Technology (MGRT) and other active players in Slovene startup ecosystem.
Startups were pitching in front of a jury that consisted of many renowned entrepreneurs and investors. Among them were Jure Knez, President of Dewesoft and of Slovene Business Club, Maja Tomanič Vidovič, the Director of Slovene Enterprise Fund, Tomaž Kostanjevec, the Director of SPIRIT Slovenia, and Jan Bormans, the CEO of European Startup Network.
The 5 chosen finalists that pitched in front of the jury were:
Bevo
Bird Buddy
Maestro Amadeus
RingoX
SeaVision
Slovenian Startup of the Year is going to be announced at an event on Wednesday, 16th of June. 
Thank you!
Podim DX 2021 is finished, but we are sure new connections and knowledge will help and inspire our attendees for a long time.
We'd like to sincerely thank all the attendees and all Podim's partners. The conference wouldn't exist without them. You can see everyone that made the event possible below.
https://podim.org/wp-content/uploads/2021/06/25-Sponzorji.mp4
More PODIM DX 2022 photos here: