From 15th to 17th May, 1,223 participants from all over the world networked and connected at Podim, one of the most influential startup and tech events in Central and Eastern Europe, which once again put Maribor and Slovenia on the global map. The three-day event attracted more than 200 startups from 26 countries, more than 70 speakers from around the world, more than 100 investors and numerous entrepreneurs and entrepreneurial enthusiasts. In addition, a record-breaking 1,220 meetings took place in this year's Podim Deal Room.

The international dimension of the event shows the participants who came from all over the world, including Slovenia, Austria, Germany, Poland, Serbia, Croatia, the United Kingdom, the United States and more. Their common goal was to learn, understand and support each other in the business ecosystem.
More than 70 top speakers wowed the crowd in a three-day program
Podim impressed with an interesting and varied three-day program, with more than 70 speakers from 23 countries, including many world-renowned names. The program part, the exhibition of technology projects at the Podim Marketplace, networking and the Podim Party took place at Maribox, while meetings between startups, entrepreneurs and investors took place at the Podim Deal Room at Narodni dom.
The very rich program served with current topics from the world of entrepreneurship and technology. 14 program blocks covered a diverse range of them: entrepreneurial growth, managing a business in difficult circumstances, leading teams, innovation in business, digitalization and digital transformation, artificial intelligence and disruptive technologies, business and legal frameworks, financing a business, opportunities in the space economy, sustainable future, modern logistics, deep-tech and R&D commercialization, the health revolution, and developing a winning startup ecosystem. The program offered participants the opportunity to attend more than 24 events – talks, panels and discussions, and to gain new knowledge and experience from renowned speakers and entrepreneurs.
Daniel Cronin

Podim participants were impressed by many speakers, including Eran Davidson from Davidson & W Technology Growth Credit from Israel, who said, "I am impressed by the atmosphere and energy at Podim and the number of people interested in innovation. What advice would I give to startups? My advice number one would be to create a story around what they do. And that story has to be compelling, with a lot of passion. People like to listen to stories and don't want to listen about the product. They want to hear why you are different, why your product can solve a problem. I always ask entrepreneurs, why are you doing this? What made you do this? So, the story behind it. And passion is also very important. Because running a business in unpredictable situations, fundraising, product development, hiring, firing and all kinds of problems without passion is very difficult. So you have to find it in yourself."
Eran Davidson from Davidson & W Technology Growth Credit

Maja Tomanič Vidovič, Director of the Slovenian Enterprise Fund, who also attended the conference, said, "This year's Podim conference, with more than 1,200 participants, including many foreign entrepreneurs and investors, confirms that the Slovenian entrepreneurial ecosystem is developing in the right direction. We have more and more globally successful startups and scaleups, more and more domestic and foreign investors are investing in Slovenian entrepreneurs, also with the support of public mechanisms, and more and more high-profile exits. The Podim conference is an important part of this evolving ecosystem, both in terms of promoting successful entrepreneurial stories, knowledge transfer from international experts, and networking. The Podim conference is also a once-a-year meeting of all stakeholders in the ecosystem to exchange views and ideas on how we can further connect and improve the Slovenian innovation and entrepreneurship environment. It is also key that Slovenia is becoming an increasingly attractive destination for foreign talent, which is an important goal for us in further development of the ecosystem, in addition to promoting venture capital investments through the Slovenian Technology Innovation Fund. Living in Slovenia and building successful entrepreneurial stories in international markets increasingly seems to be a recipe for success and a good life."
South Eastern Europe Investment Survey shows remarkable market development in recent years
In the Program Block "Developing a Winning Ecosystem," participants also found out the results of a recent survey on the state of investment in SEE conducted by the Silicon Gardens Investment Fund. Gregor Rebolj, Partner at Silicon Gardens Fund, said: "The survey shows that investments in tech companies with Slovenian, Croatian or Serbian owners increased from around €300 million between 2016 and 2017 to €3.45 billion between 2021 and 2022. We are talking about an almost 12-fold increase in investment, which represents a remarkable development of the market in recent years. In addition, the number of exits and secondaries in the region has increased 5-fold since the end of 2016, and the number of companies that have surpassed a valuation of one billion dollars (unicorns) has jumped from one to six, which further demonstrates the region's growing technological strength. At the same time, the survey also shows that those technology companies that are the most successful in their operations and in raising investments are based abroad. In addition, to achieve even greater breakthroughs, more optimal taxation of employee involvement in companies should be put in place, as current taxation forces business owners to move abroad before potentially selling their stake in the company."
Gregor Rebolj from Silicon Gardens Fund
Podim 2023 hosted 213 of the most ambitious startups
As Urban Lapajne, Program Manager of Podim, said, "this year's line-up of startups and scaleups looking for investors or collaboration with established companies at Podim was very good. The growing number of startup applications and the quality of projects from across the region shows that our region is steadily making its way onto the map of global startup hubs. Podim organizers, as well as investors, we are seeing that the quality of startups in the CEE region is improving, which is very pleasing."

Among the 213 participating startups from 26 countries, the largest number of startups came from Slovenia (20%), followed by Croatian startups (13%), Serbian startups (12%), Austrian startups (9%), Polish startups (7%) and Italian startups (6%)….

The participating startups come from a variety of industries, and the top 5 most represented industries are:
Business operations, productivity, and IT
Health and well-being
Lifestyle, entertainment, and sports
Mobility, transportation, and logistics
Finance, insurance, and real estate

Czech Hedepy wins the Podim Pitching Competition
The highlight of Podim is certainly the Podim Pitching Competition, where the region's most ambitious startups pitch their innovative ideas. This year, 135 startups from 22 countries presented their pitches at the Demo Day on 4th May 2023. Among them, a strict investor jury selected 10 of the most promising startups, which then took part in the semi-finals of the competition on 15th May in Maribor at Podim. The last act of this competition was the pitching of 5 finalists in the finals, from which only one won the title.

In the finals, on 16th May, the following startups competed for the crown of the best Podim startup:
Qubinets from Croatia,
CircuitMess from Croatia,
Midnightdeal from Austria,
Hedepy from the Czech Republic and
Behavio from the Czech Republic.

The experienced international investor jury was most impressed by the Czech startup Hedepy, one of the fastest-growing online platforms for well-being and mental health, which already operates in 11 markets.

This year, the finals jury members were globally successful names from the business world: Eran Davidson (Davidson & W Technology Growth Credit), Francois Mazoudier (Fundraising Bootcamp), Grega Potokar (ABC Accelerator), Gregor Rebolj (Silicon Gardens Fund), Julien Coustaury (Fil Rouge Capital), Karolina Mrozkova (Credo Ventures), Rok Huber (Slovene Enterprise Fund), Nikola Pavesic (Infobip), Or Haviv (Arieli Capital), Steve MacDonald (MacDonald Ventures) and Tatjana Zabasu Mikuž (South Central Ventures). Thank you for becoming one of our Podim judges.

The winner of the Podim Pitching Competition has been awarded a place in "The Fundraising Bootcamp", Europe's No.1 investor program, led by angel investor and entrepreneur Francois Mazoudier. And as the best part of the PODIM London Springboard, the winner will also fly to London, where a series of meetings await him with the opportunity to meet the right people to grow their startup.

Startup Herzens app wins €30.000 prize
At the finals of the Podim Pitching Competition, one more startup was awarded a prize besides the winner of the competition. Among the startups that competed in the Podim Pitching Competition, Infobip selected the startup that they see the most potential in, the Herzens app from Austria, which received €30,000 worth of Infobip's services.

1.220 meetings in three days
Every year, Podim proves to be a great opportunity for all those looking for new business opportunities, connections and potential collaborations. Startups, investors and company representatives were once again networking opportunities in the form of pre-arranged 1-on-1 20-minute meetings in the Podim Deal Room. This year also broke the record from the previous years, with 1.220 meetings attended by startups, investors and business people from various corporations and SMEs.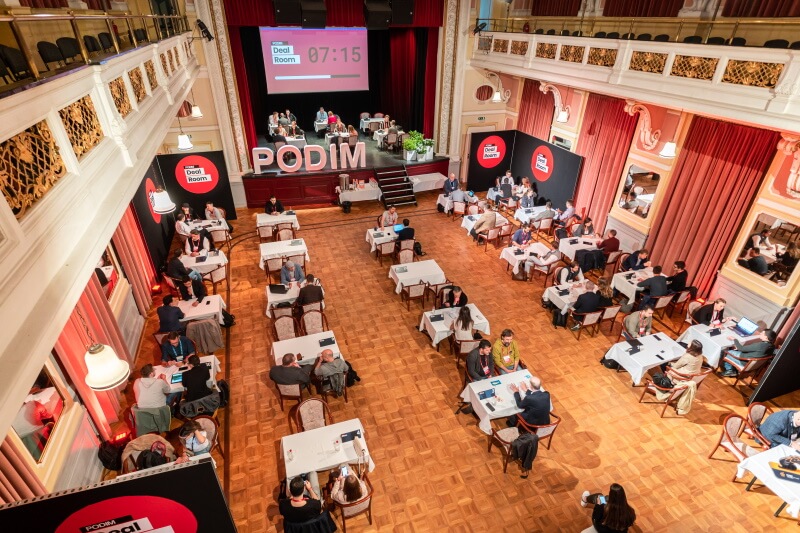 Podim Marketplace
The Podim Marketplace was also a diverse and innovative exhibition space, where more than 70 start-ups presented their products and services to investors, business people and other participants, as well as also several established companies presented their products and services. Some products could also be tested on-site.

Podim 2023 most definitely went out with a bang, but …
… we would like to say a big thank you to our partners sincerely! YOU absolutely ROCK!

The event has traditionally been held under the watchful eye of Start:up Slovenia and co-organized and co-financed by the Slovenian Enterprise Fund, the Ministry of the Economy, Tourism and Sport, the ERDF, and with the support of a number of domestic and foreign partners.